Need To Zap! Some Finger Cracks, Heel Callous Splits, Or...? Here's Simple Directions For Using CrackZapIt!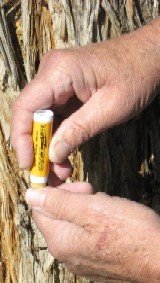 Directions: Simply apply CrackZapIt! liberally three (3) or more times a day for three(3) or more days for relief from bleeding fingertip cracks, cracks in joint folds of finger skin, callouses on feet, toes and heels. READ THE REST OF THIS PAGE.

'Bee'-Aware: Some people are allergic. Some to all kinds of things, and some to maybe just one or two things. PLEASE READ ALL INGREDIENT LABELS OF ALL PRODUCTS ALL THE TIME. Allergic OR NOT! Just common sense. Some people are allergic to honey, pollen, even beeswax. It's not funny, not odd, and a SERIOUS CONCERN to many folks. I wish it was different.
OFTEN, I have found, in the early days of developing and using CrackZapIt!, that the  crack or cut or sore felt so good after just one or two applications, that I FORGOT the directions! YIKES! Do that, and you'll have to START OVER, just like I did. I learned, especially with the bad bleeders, to put it on OFTEN. 3 x 3! Three times a day for three days usually did the trick on just about any crack!
(Mild cuts, scrapes, and burns, by the way, also can benefit from these same application steps)!

CAUTION: ALWAYS be sure when applying CrackZapIt!, or any other skin care therapy, to injured skin, that the injury does NOT need further medical attention, AND is CLEAN AND DISINFECTED IF NECESSARY before any application. Just good sense, right? YOUR OWN NATURAL HEALING PROCESS is doing the job! CrackZapIt! just ENABLES that process to complete!

My unofficial 'directions' are to carry CrackZapIt! everywhere you go, like I do, right in my pocket. Whenever I feel any discomfort at all, or dryness, scratchy cuticles at the ends of my fingers, or the pain of a crack starting on a heel callous, I have gotten in the habit of whipping out my tube of CrackZapIt! and putting some on. THIS PREVENTS CRACKS BEFORE THEY HAPPEN!

That is WAY MORE PLEASANT, than if I wait until I have a PAINFUL, BLEEDING crack!

I sincerely hope you'll get the CrackZapIt! HABIT, too! Not just so I'll sell more, but so YOU WILL RARELY IF EVER have to SUFFER PAINFUL FINGER CRACKS as well as other skin cracks and irritations. That's what's IMPORTANT!

(Oh, Hey! HANGNAILS! What if you don't have clippers in your pocket or purse or backpack? Slide some CrackZapIt! on em'! Either it will soften and 'go away' naturally, or at least you'll be relieved until you can carefully trim it off).

Let me know what you think of CrackZapIt! AFTER you've applied it JUST like I've said above. Use this CONTACT FORM, por favor!

Thanks!

Jackson