CrackZapIt! - Fast relief of painful finger cracks - Closed in 3 days or less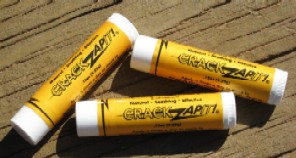 PAINFUL finger cracks? Yeah... I know..
..."HONEY! QUICK!..come'ere and help me snap my jeans!" I was pleading to my wife...
..feeling so helpless because the bleeding cracks on the tips of these two thumbs of mine felt like someone was stabbing needles in 'em!
I desperately tried to snap my pants shut and..just couldn't do it..But I had HORSES to feed!

Now, I don't think of myself as a sissy...
But like many folks who work with their hands, whether as a hobby or career, I used to get excruciating, painful finger cracks from my work as a trim carpenter, tile setter, surfboard 'glasser, potter, gardener, and painter over the years.
(And being a barefoot guy at the beach and in the mountains, I also got painful heel cracks as well.)
Now, however, we live 'out there' in rural SW CO and raise Alfalfa/grass hay and pasture a few cows from time to time!

Hi, I'm Jackson...

Sandpaper, dust, wood, glue, abrasive conditions, wet and dry cycles...
Drying solvents, moisture sucking clay, and bitter cold in the winter were just common occurrences in a day that I didn't really think about. And, "Wham!", painful cracks would just seem to spontaneously appear on my fingers.
I put up with it for a long time - too long.
Skin care lotions and hand creams always gave a moment or two of relief, but they were messy, in big bottles, and usually at home. I tried all KINDS of stuff.
Then I stumbled on a car door latch lubricant that was in a thick stick form. It worked pretty good...sorta'. I used this for a while.
Then, as car door latch technology changed, the company went out of business...
I thought maybe I could get or buy their formula, so I started investigating. I ran into an analysis of the product by a university, and discovered it was all petroleum products and basically toxic.
And I was putting this on bleeding finger cracks.
Dang it. Then I resolved to research skin care - I wanted something that was designed the way it was on purpose, not some 'accidental' toxic junk. Well, hey, it was GREAT for door latches..that's what it was MADE for.
I wanted it healthy and natural, easy to apply, conveniently packaged, and it had to work... I mean, I was desperate.
Well, it took me over a year to develop a balm that I based primarily on beeswax and honey along with other, natural substances I had researched as beneficial aids to healing abraded, cracked skin.
It all needed to blend, be thick enough to fill cracks, and be sticky enough to stay on longer than wimpy lotions so my body's natural healing process could take place...
Early one Saturday morning, after many experiments in my own kitchen, I carefully warmed up trial #39, and poured it into an empty lip balm tube...I couldn't wait for it to cool down so I could try it.
Finally it was ready. It felt perfect. Nice and thick. It filled the crack on my left index finger that started from the corner of my fingernail and cut down my fingertip...
..and, thank God, after a minute or two - blessed relief. Eureka! CrackZapIt! Skin Care Therapy was born.
I put it on 3 times a day for 3 days and...closed up finger crack. Mission accomplished...
The rest of the story about the nitty gritty details of developing a product for market?... I'll tell you later...{;^)
What's new at CrackZapIt!? A new, larger size for foot and heel calluses!
Having Trouble Getting CrackZapIt! Locally? Here's How To Win It Free!
What's Brand New For Distributors At CrackZapIt!?
Your cracked fingers need natural ingredients therapy and here it is
Beeswax is the main natural ingredient in CrackZapIt! Tell me about it.
If you're looking to zap finger cracks, heel callous splits, here's directions for using CrackZapIt!
Where Can I Get CrackZapIt!? I Hear It's Awesome On Finger Cracks!
Here's Where Locals-Get-CrackZapIt!
Need exclusive Distributors Info for CrackZapIt!? Here it is...
What do CrackZapIt! users say? "I love it!"
Who Needs CrackZapIt!???Scads Of People From Every Walk Of Life!
Why do remodelers need CrackZapIt!? It can close up finger cracks in 3 days!
Rock Climbers get finger cracks. CrackZapIt! Closes 'Em!
You need CrackZapIt! If You're An Artist And Use Your Fingers!
If you're a potter, work with ceramics, you probably get cracked fingers! CrackZapIt! is the potter's answer to painful fingercracks!
String musicians can get painful finger cracks. Use CrackZapIt and get back to playing quickly!
How Can A User Contact CrackZapIt!
You've Tried Creams, Salves, and more - But Here's How To Get Relief For Painful Dry Cracked Skin Naturally
Cracked Heels Are Brutally Painful, But there Is Ready Relief Availble Here and Now
Exposed Skin Care Treatment? Here's The Remedy for Resulting Split Skin
Not All Home-Remedies-For-Dry-Skin Cracks Are Effective. What's the Secret? We'll Tell You.
Who Is Jackson Ordean, the creator of CrackZapIt!
What kind of radical life did Jackson find in Colorado?
CrackZapIt!'s Privacy-Policy