Brand New For Distributors!
Due to Manufacturing increases, all prices will increase 5% after March 31, 2018. 
Our prices have changed little in the last 5 years - we hope to keep it that way in the future for as long as possible! 
Please see the ORDER Page for specific information.
PREVIOUSLY:

News FLASH! And, like an encore, we've done it one MORE time!

Cut to the bone on prices for distributors, lowering every price break from 100 tubes and up to just a bit less, so that your profit is increased...

..And think about it: If we drop a price category 3%, your profit just went up 6%!
Also, we've slashed our shipping...AGAIN!

And It's NOW PRE-PAID!(in CONUS)

Depending on quantity ordered and payment term options chosen, the savings is even better than before and SIMPLE ORDERING is the order of the day!

Get all the details on the  Order CrackZapIt page.



---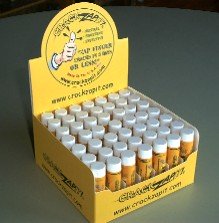 For all customers who have retail stores (as well as paper and online catalogs):

By popular demand, we completed our POP (Point-of-Purchase) Check-Out counter-top displays for CrackZapIt!

They hold 49 tubes so each 100 tube 'REFILL' pack you order will fill the display twice.

It's not 'rocket science' to assemble the displays, but just in case someone needs a set of clear instructions, please click the link below:
Go from new-for-distributors to POP-display-assemble
As you can see, they are 'EYEBALL MAGNETS'! All customers are welcome to 'snag' these graphics for use in your paper and online promotions, too.

I'll be happy to send you larger and finer versions you can resize yourselves - just email me, crackzapit@gmail.com.

You are also welcome to use any of the graphics on this site that contain images of CrackZapIt! for your advertising and promotional purposes as well.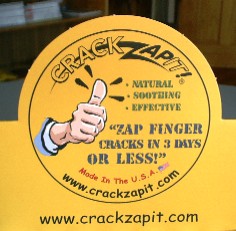 To go to the Distributors Info page, just click on the above photo of the display!

BUT...if asked for a PASSWORD to access links on that page..

... call me at 970 327 4013, leave a message if necessary and I'll get back to you!

To go back to the home page, please click

here. Thank you all! I look forward to you enjoying, using, and profiting by the new POP display box.
But mostly, I look forward to MORE and MORE customers using CrackZapIt! and getting those nasty finger cracks...

'CLOSED IN 3 DAYS OR LESS!'

Jackson