Who Says Remodelers NEED CrackZapIt!? I DO! I've been one and IT WORKS!
I KNOW: REMODELERS NEED CRACKZAPIT!

Ever met one of those been there; done that kinda' guys? Golly, I'm starting to sound like one!

Since it is true that over the years I've been involved in almost every aspect of remodeling and re building except roofing and roof framing,
I thought I'd put a small gallery of past projects on this page AS WELL AS SOME USEFUL LINKS, to kind of back up my claim.

BUT MORE IMPORTANTLY, to let you know that CrackZapIt! was made by a guy who HAS 'been there, done that'!

I literally KNOW YOUR PAIN! (Ha!) Well, at least as far as Bleeding Finger Cracks go!

And if you missed this VALUABLE NUGGET of DIY HELP back where I was talking about carpenters needing CrackZapIt!, DO NOT miss the knowledge and wisdom of Gary Allen at Carpentry Tips and Tricks! (click it!, you won't be sorry)

MY REMODELERS' GALLERY


Renovation requires DEMOLITION - that's TOUGH on FINGERS! There was a spa and redwood decks above this 'hole'.

Raspy concrete...Splintering wood!

Bashing stuff with a SLEDGE HAMMER! Remodelers need CrackZapIt! Need I say more?

Slightly different view of that 'pit' room. Now with a nice built in bench you see over there on the right...

Covers some plumbing and a large hydronic heater, which called for lots of slats for ventilation.

A tricky little build I might explain later...

1972 Kitchen Bites The Dust!

(Er..I actually did).

This is usually when you ask yourself, "Why am I doing this *@%#* job?!"...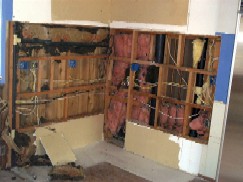 And here's the answer! Client pleased? Bingo!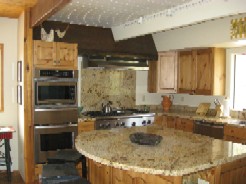 Took 2 burly guys to get the cast iron tub out...

And no room to do it!

It was CRAMMED in there!

But pretty soon it was time to make the tile shower pan and get this puppy turned around!

Whew! Slate is much more irregular than tile, right? But it was fun getting it done...

By now, though, my fingers were cryin' for SOMETHING!

Remodelers need CrackZapIt!

When you build new, you run into problems, have to adapt, sure.

But when you remodel?

Buddy, you KNOW you are in UNEXPLORED territory!

This built in sofa is 12' long. I wasn't going to make it and carry it in there!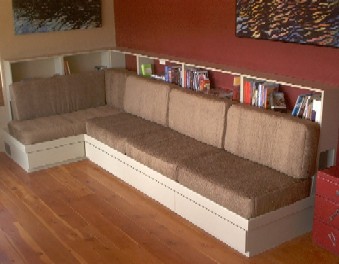 It's built in modules 3' wide, carefully screwed down, carefully adjusted, carefully molded in to look like one, monolithic piece!

The bookshelves above and full length slide drawers below are all part of it! I admit it, I'm proud of it. {;>)