Painful Finger Cracks Will Stop Musicians In Mid Riff! CrackZapIt! Will Get You Back To Playing Quickly.
Calling all string playing musicians! PRESSURE, abrasion, blisters, calluses, painful cracks between soft and hard tissue on finger tips. CrackZapIt! WILL HELP!...Hey, I'm playing a 1962 Hagstrom in this photo. It's a great little axe for my recreational playing and I've used it for worship at church, too.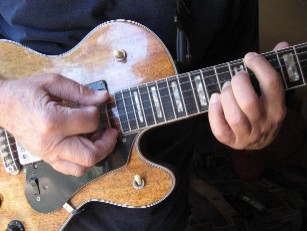 Since you came to this page, you might be just like me, a recreational player, and some of you will be the real deal: pro musicians, or intense students on their way to becoming pros. I hope you will get my product and finally find relief like I did!...

But that's not what this page is about! I want to GIVE you something just because you and I like playing guitar, bass, cello, violin, harp, oud, sitar, banjo, mandolin, or - you name it!...stringed instruments.

Here are links to some sites that you might not otherwise find, sites that MIGHT BE OF REAL USE to you...just to say THANK YOU for spending time looking at CrackZapIt!'s home website!
 YOUNG ARTISTS' HARP SEMINAR! Competitions, opportunities, lessons, harpists' forum, more links, activities, and connections. You'll find it at  harpseminar.com (opens in new window) 
If you're a casual player, like me, or even playing gigs after your day job - a semi-pro, the home study lessons of GUITAR COLLEGE (big book in tab and note, plus CD's and a LOT more) show you awesome jazz, blues,... from just starting out, to very advanced chord substitutions, modal riffing, and stunning solos (plus everything in between) that will blow your guitar case wide open! This is at the top of my 'musicians' bookmarks on my OWN computer. ENJOY! (opens new window)

As I run across other cool stringed instrument stuff, I'll come back and put it on here.

IF YOU have some cool stuff for this page, CONTACT  me and I'll check it out and maybe it'll show up here! (It could be any interesting potential link concerning stringed instruments).

Thanks! {;>)

Jackson