Potters Benefit With CrackZapIt!

The Clay Gallery, page 4
Abram, Sarai, and God Having A Laugh 15" x 21" (ceramic part)

Potters, if you're childless, near 100, and someone tells you you'll have a son this time next year, YOU'D PROBABLY LAUGH, TOO!

But when they actually had one, they named him Isaac, which means, 'Laughter', or "she laughed"...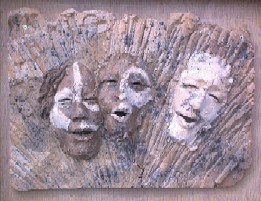 ...Then they laughed because they were over come with the blessing of God's promises!
Multiple colors of clay formed into a 3/4"-1/2" slab, pressed with the edges of sticks, self-portrait life-mask-mold used to pull 3 faces that were radically altered, sprinkled with frits and colorants, painted with slip, cone 10 reduction.


This Coil Built Clay Wavy Pot, 24" purposely has a few spaces left in it to indicate that it's...

.. really a 'pot like form', purely for holding space, not beans or rice!

I made this as a 'demo' for student potters just learning the coil method.

I wanted them to see how many different kinds of coiled shapes could be used...

..how they could control the shape of the pot, and how high they could go.

I may decide to sand blast some of the glaze off sometime to better show the individual coils.

Cone 5 Electric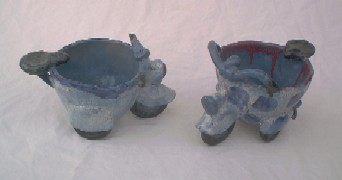 These guys, Scooter Cups, each about 6" x 7", are for eating ice cream at celebrations!

(Hey, you can find something to celebrate every day, right?)

When kids, young or old, see that you can take a simple pinch pot and make just about 'anything' out of it, THE LIGHT TURNS ON!

I actually first used the idea when I was a young(ish) exhibitor starting out...looking for a way to set my thrown mugs apart from the rest of the competition. This was the first of many ideas that did just that...

...Of course, the real reason was that I was more interested in fighting boredom than making a buck off a 100 same or similar cups.

Cone 5 Electric

Well, I think that's enough, eh? I can always change 'em around when I get bored of looking at 'em.

At some point, I'd like to get some of YOUR pieces in a gallery on the site! I'll get around to that PDQ. {;>)



Return from Potters-benefit-with-crackzapit to Home Page