Order CrackZapIt! Information
Get Started
NOTE:  Free shipping in the Continental USA!
Also Note: Prices on refills, individual display boxes, cases of 12 display boxes, and bulk will increase 5% after March 31, 2018 due to increased manufacturing costs.  
We don't foresee further raises the remainder of this year (and hopefully into the next!)
The MSRP was raised to 4.49 over a year ago.  We encourage all our retailers to consider raising their prices.  At least one of our online retailers hs been selling for 4.49 per tube for years. 
We ourselves have been selling on Amazon for 5.49, which protects our retailers to charge the whole MSRP and not be undercut.  We pray 2018 is a prosperous year fro all our customers!
Order CrackZapIt! As an Initial Starter Pack 

of 49 tubes with an eye catching counter top display for 

$111, delivered

We offer 

refill packs 

of 50

 tubes at 

$111, delivered



..But, buying refill packs of 

100 tubes

, $211, delivered, of 2 year shelf life CrackZapIt! is more efficient and saves 5% as well.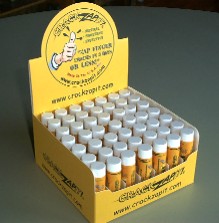 ---
NOTE

:

Formerly we charged for replacement boxes unless damaged.  

Now we ship full boxes with every order at no extra charge whenever needed.  This saves  up to to 3% of your profit. 

We gladly replace damaged or shopworn displays at no charge
Bulk Pricing
How to order, terms, and contact
PLEASE order using your company Purchase Order, either hard copy, or PDF.

TERMS

:

  -2%/10 days; Net 30
PLEASE MAKE all checks payable to: CrackZapIt! Skin Care Therapy, POB 635, Norwood CO 81423.
EMAIL: jackson@zapfingercracks.com
---